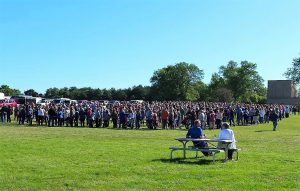 The crowd is waiting for the art fair to open!
'the' fun places to be………
The art fair schedule is always a work in progress, as I'm often waiting on confirmations.
Please check back from time to time & for more information, feel free to contact me. A few of my usual art fairs will not be held this year, yet most are moving forward with changes as needed.
The following is a list of many fabulous events! See you there!
Sturgeon Bay Fine Art Fair – Downtown – Sturgeon Bay
Updated Location: 3rd Avenue from Oregon Street to Quincy Street, Pennsylvania Street from 3rd Avenue to 1st Avenue, Martin Park
Dragon Art Fair – Fireman's Park – DeForest
Garden Faire Extraordinaire – Washington Park – Manitowoc
Art Fair in the Park – Winnequah Park – Monona
Lake Mills Arts Festival – Commons Park – Main & Lake Streets – Lake Mills
August 14 & 15
10-5 & 10-4
Green Lake Fine Arts Show – Playground Park – Mill Street, Hwy 23 – Green Lake
Arts on the Square – Main Street – Waupaca
Cow Chip Arts & Crafts Fair – Marion Park – Prairie du Sac
Starving Artists' Show – Mount Mary University – Menomonee River Pkwy – Milwaukee
The layout this year will be different from prior years due to construction on the campus. I'm not sure where parking will be, but as you know they are super organized so all will be good!
Holy Hill Arts & Crafts Fair – Holy Hill – Carmel Road – Hubertus
Appleton Octoberfest – Off College Ave – Appleton
**October 9 & 10
10-5 & 10-4
Townline Art Fair – Fine Line Designs Gallery – Hwy 42 – Sister Bay
Holiday Arts & Crafts Fair – Brookfield East High School – Brookfield
Show has not been announced.
Kohler Holiday Arts & Crafts – Kohler Public School – 333 Upper Road – Kohler
Redbird Holly Craft Faire – DePere High School – 1700 Chicago Street – DePere
** Awaiting official show acceptance.