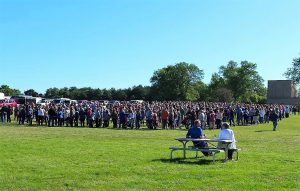 The crowd is waiting for the art fair to open!
'the' fun places to be………
The art fair schedule is always a work in progress, as I'm often waiting on confirmations. I'm usually booked nearly every weekend from May until December & find fabulous events!
Please check back from time to time & for more information, feel free to contact me. Thanks!
Syttende Mai Arts & Crafts
Forrest Street – Stoughton
May 26 & 27 – 10-5 & 10-4
Sturgeon Bay Fine Art Fair
Sunset Park – Sturgeon Bay
Market Street – De Forest
Oven Island – Lakeside Park – Fond du Lac
Garden Faire Extraordinaire
Washington Park – Manitowoc
#320 Main Street – Waupaca
June 23 & 24 – 10-6 & 10-5
Washington Avenue – Cedarburg (site# , northern end)
Lake Country Art Festival
Naga-Waukee Park – Delafield
Bergstrom-Mahler Museum
of Glass Arts Festival
Commons Park – Main & Lake Streets – Lake Mills
Westside Park – Water Street – Cambridge
Lakeside Park – Hwy 57 – Jacksonport
August 11 & 12 –
10-5 & 10-4
Green Lake Fine Arts Show
Playground Park – Mill Street, Hwy 23 – Green Lake
Library Lawn – Main Street – Waupaca
August 24, 25 & 26
3-7, 10-6 & 10-5
Mount Mary University – Menomonee River Pkwy – Milwaukee
Holy Hill Arts & Crafts Fair
Holy Hill – Carmel Road – Hubertus
#16 – College Ave, between Drew & Durkee Streets – Appleton
October 6 & 7 –
10-5 & 10-4
Fine Line Designs Gallery – Hwy 42 – Sister Bay
Kohler School Friends
Holiday Arts & Crafts Fair
Kohler Public School – 333 Upper Road – Kohler
Redbird Holly Craft Faire
De Pere High School – 1700 Chicago Street – De Pere